Penname:
firecat87 [
Contact
]
Real name:
Fire
Member Since:
11/03/13
Membership status:
Member
Bio:
---
About Moi
---



I Want What I Cannot Have,
But What I Can Have, I Do Not Want.
So The More I Want, The More I Suffer...
I Want,
Therefore I Weep...


On a lighter note...
Firecat87 lives amongst the Espada happily chillin in Las Noches, Huecomundo where she sips sweet wine and watches her favorite animes :)


---
Masterpieces
---


Of Honey and Venom | Naruto | Kakashi + OC | Progress: 75% as of 11/7/13

Ah yes! This story is definitely a classic of mine. Back in the days where Quizilla was actually a fun, interactive site to post fandoms on, this was one of my very first stories! It has undergone some serious reconstructions, as you can see by the title(s) alone, plot, and characterization.

Initially, the story began as Kakashi and the Beautiful Assassin. Then years later, after deciding that I needed to revamp this story, I changed the title to The Assassin's Creed. And now at last, I have changed the title to what fits the plot perfectly, Of Honey and Venom. I give credit to the title of this story from one of the more older authors on the back-in-the-day Quizilla, Wildshy.

I believe this story captures the essence of Kakashi Hatake to a tee, along with other memorable characters. The OC characters of the original story are still in tact: Serena, Aoushi, Daichi, and the plot has more or less the same theme, with major changes of course, but I am truly happy to where I have taken my baby.







Black Roses | Yu Yu Hakusho | Youko Kurama + OC | Progress 10% 11/7/13

This was one of my first three stories on Quizilla when I first started writing fan-fiction. If anyone could recall my initial days in writing, you will see a gigantic leap with my writing ability. But as always it isn't how you always start, but how you finish, and I must say this story has also came a long way from where it began.

In it's trial of existence, Black Roses was formally known as Youko Kurama and the Foxy Thief, and contained a plot that was random and would seemingly end up no where. It pained my heart, as did my other stories, knowing that I had to restart one of my babies. The choice I made was one of my better ones, and I am indeed grateful that I chose to embark upon this path.

What you read before you today is one of my more favorite stories. I believe it captures the qualities of Youko Kurama, and his rival, Lynda, in an epic tale of two top-notch thieve striving for greatness. The original characters are still in the story: Mia, Lynda, and Dawn, while several other new characters are introduced.

I believe this story is much more entertaining than the first, and has a better plot and character development than where I initially began with the story. I hope you all enjoy reading such a classic tale that I have written.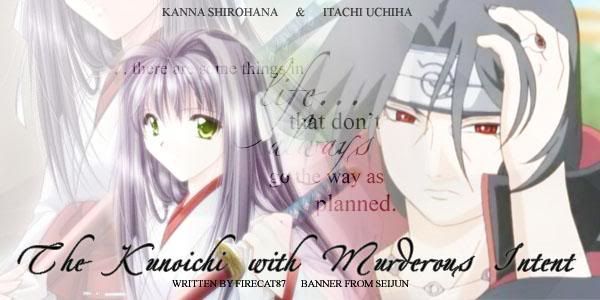 The Kunoichi with Murderous Intent | Naruto | Itachi + OC | Progress: 85% as of 01/11/14

Another dear child of mine that was with me in my initial youthful days of Quizilla! I absolutely LOVE this story. Out of all I have written, this one is without question my favorite one!

From what started on a whim, progress, and to what it has and shall become I am definitely content with. It is most unfortunate that I could not finish this story six years back from where I started back in 2006 (yes I know, it has been ages). Looking back now, however, I am thankful that I did not finish this story. More prominent ideas have been added to the plot to fit its purpose, and I can pay tribute to one of the most profound characters throughout anime history-- Itachi Uchiha.

This story contains a plot twist, in which i hope you all take note of and pay closely attention to. It gives much insight into the aspect of one of the best anime series to date, Naruto.







A Fetish for Shinigami | Bleach | Grimmjow+ OC && Ichigo + OC | Progress: 75% as of 01/11/14

This is one of my first Bleach fan-fictions. Initially, I have written the first chapter at least 5-7 times before I was satisfied to where it is now, and I must say I do like the direction it is going in.

If there are people who have not caught up with Bleach (Japanese), then there will be a lot of spoilers in this series. Other than than, it is a great story to read. The three main characters in the story are Delores, Grimmjow, and Ichigo. The title speaks for itself, and the plot of this memorable fan-fiction gives much insight into the Espada, and the Soul Society (at least from my point of view).







King Uncaged | Bleach | Grimmjow + OC | Progress: 10% as of 11/7/13

Grimmjow Jaegerjaques... Without question, he is my favorite character in the Bleach Series! What I adore most about him, as I am sure others do as well who have this fascination about him, is that he stays true to himself throughout the series. He came in as the hard badass, and took no type of shit from anyone. For this reason, his I felt it was my duty to capture all of his qualities in a short story I have written.

This story came to me on a whim, like so many others have, and I would like to do so much with it, but I felt it would clash with another Bleach story of mine, so instead I have decided to make this a mini series instead. The story does justice to Grimmjow's character, where so many other stories I have read failed miserably, but nevertheless this is one of my favorite stories up to date.






War with Words | Various Anime/Manga | Letters to different characters | Progress: 75% as of 11/10/13

This is one of my first anime drabbles, and I must say that I am quite pleased with it.

The inspiration to writing this story was simple: I've seen various anime shows time and time again. From watching in it in my most youthful days, to now as a young adult, there are several themes and instances where these characters inevitably make a mark in anime history that is either good, bad, or shall not be commented upon. I believe this drabble captures what all anime fans have ever thought of about these characters (or at least to some degree) and the thoughts of what other anime characters think about each other.

If you are looking for extreme comedic relief, this is the read for you.




---
Future Concoctions
---


To Be a Coordinator | Gundam Seed Destiny | Dearka + OC | Birthdate: 5/12/12
Prelude to an Impending Doom | Rorouni Kenshin | Kenshin + OC && Saito + OC && Aoushi + OC | Birthdate: 3/5/06
The Path to Power | Yu Yu Hakusho | Hiei + OC | Birthdate: 7/15/12
The Sweet Temptation of a Melody | Inuyasha | Sesshoumaru + OC | Birthdate: 4/15/06

Firecat87 would absolutely love to start posting the future stories above, but because she has re-written the majority of her current stories and also because she has not finished any of them (started back in 2005 on Quizilla), she will attempt to refrain herself from posting new goodies until the current stories are at least close to being finished.

Firecat87 also has sequels and prequels to write for some of the stories, and, although she would like to start on those everyday, she simply cannot because she is a scatterbrain and is easily distracted which will result in another XYZ year delay on finishing her stories. She does, however, give you her promise to finish each and every story she starts! The artwork and creativity that flows from her mind and inevitably leaks onto the computer has to be shared with the world, and she is determined to give each and every cannon character and their paired OC the utmost justice that seems to be lacking here in the fanfiction world.




[
Report This
]
Stories by firecat87
Black Roses
by
firecat87
Rated:
M
[
Reviews
-
2
]
Summary:
For the title of the best, Lynn eats, lives, and breathes being a thief since her childhood. The insidious craft runs deep in her veins, and she wants nothing more than to claim heir to the throne. On her quest to becoming the best, she knows that there is one demon that she must overcome in order to gain access to the title--Youko Kurama.
The Foxy Thief
is truly a cut above the rest and is destined for greatness, allowing nothing to obstruct her true calling in life, that is, until she crosses paths with the
Prince of Thieves
...
Pairing:
OC/
Youko Kurama
Categories:
Yu Yu Hakusho
Characters:
George Saotome
,
Hiei
,
Koenma
,
Mukuro
,
Raizen
,
Youko Kurama
Genres:
Action/Adventure
,
Angst
,
Comedy
,
Erotic
,
General
,
Romance
Story Type:
Collection
,
Novel
Warnings:
Adult Situations
,
Anime
,
Comic
,
Crude Humor
,
Lemon
,
Lime
,
Mild Adult Situations
,
Mild Violence
Series:
None
Chapters:
4
Table of Contents
Completed:
No
Word count:
8302
Read Count:
839
Summary:
Everything you've ever felt; everything you've ever thought; everything you've wanted to say these anime character has now been conveyed in a tiny and yet illustrious bit of text.
War with Words
is more than just another rant; it is an expression that loyal and dedicated anime fanatics have wanted to say for a very long time. It is also a vocalization of how other anime characters longed to disclose certain topics with each other in the same respect...
Categories:
Bleach
,
Death Note
,
Fairy Tail
,
Inuyasha
,
Naruto
,
Pokemon
,
Yu Yu Hakusho
,
Gundam Wing
,
Dragon Ball
Characters:
Ash Ketchum
,
Brock
,
Bulma
,
Byakuya Kuchiki
,
Chi-Chi
,
Chiaotzu
,
Danzo
,
Deidara
,
Dorothy Catalonia
,
Duo Maxwell
,
Gin Ichimaru
,
Gray Fullbuster
,
Grimmjow Jaegerjaquez
,
Hiei
,
Hiruzen Sarutobi
,
Ichigo Kurosaki
,
Inuyasha
,
Kagome Higurashi
,
Kagura
,
Koenma
,
Koga
,
Korin
,
Kurama
,
Light Yagami
,
Mukuro
,
Nagato
,
Neji Hyuga
,
Nelliel Tu Odelschwanck
,
Nnoitra Gilga
,
Orihime Inoue
,
Orochimaru
,
Renji Abarai
,
Rukia Kuchiki
,
Sasuke Uchiha
Genres:
Angst
,
Comedy
,
General
Story Type:
Collection
,
Drabble
,
Ficlet
Warnings:
Adult Situations
,
Anime
,
Comic
,
Crude Humor
,
Drugs
,
Incest
,
Language
,
Lemon
,
Mild Adult Situations
,
Rape
,
Spoilers
Series:
None
Chapters:
2
Table of Contents
Completed:
No
Word count:
830
Read Count:
1291